Manual and automatic scanning barcode multi-function wired scanning
bar code with automatic scanning code bracket.
The C300 barcode scanner supports a variety of
scan code recognition, with strong compatibility
and fast reading of barcode data.
And the new automatic infrared light recognition
technology, barcode scanning speed is
sensitive and rapid.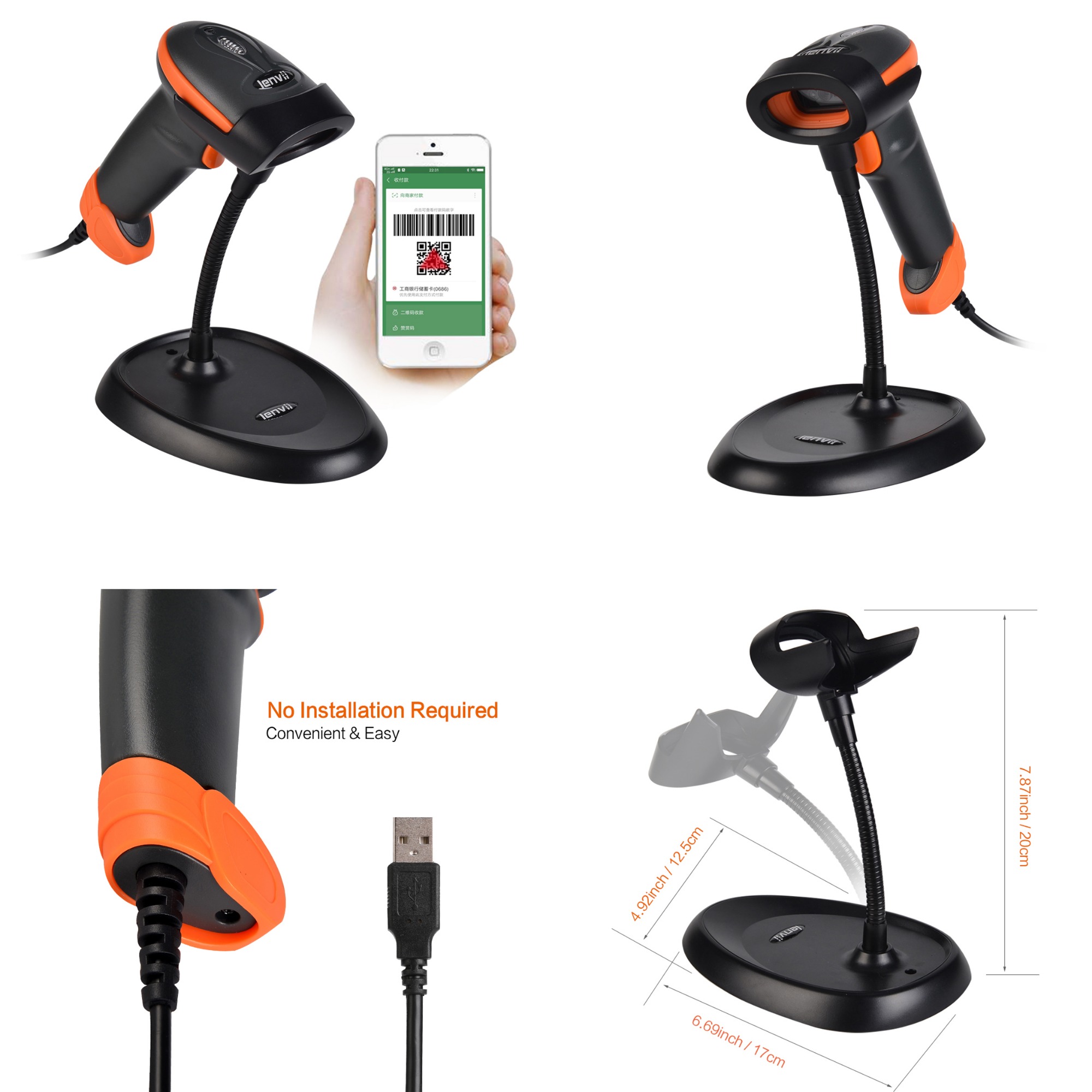 1D & 2D Automatic Scanner with Base Support Automatic identification scan Optical Source Aiming: 617nm LED illumination:6500K LED Imaging Sensor COMS Resolution Ratio640*480pixels Image Resolution≥ 5mil "Minimum Print Contrast "≥ 25% Barcode Types"1D CODE128 EAN-8 EAN-13 UPC-E UPC-A Interleaved 2 of 5 ITF14 MATRIX 25 Code39 Codabar Code93 UCC/EAN-128 Code11 ISBN INDUSTRIAL25 STANDARD25 Plessey MSI_Plessey 2D PDF417 QR Aztec DataMatrix Maxicode " "Barcode Sensitivity"Tilt±65° Rotate±30° Deflection±55° Data Interface PortTTL-23,USB Mechanical and Electric Performance SIZE(Length x Width x Height)220mm*70mm*95mm Net Weight220g Indicator Beeper and LED light Working Voltage5V Working Current170mA Accessory Data CableUSB(1.8M) Operation Manual One Environmental Parameter Working Temperature-20°C ~ 60°C Relative Humidity 5 ~ 95% Height range5M IP RatingIP54 DECODE CAPABILITY "2D: QR Code, Data Matrix, PDF417,Aztec, Maxicode 1D: UPC/EAN/JAN,UPC-A & UPC-E,EAN-8 & EAN-13, JAN-8 &JAN-13, ISBN/ISSN, Code 39 (with full ASCII), Codabar (NW7), Code 128 & EAN 128,Code 93,Interleaved 2 of 5 (ITF),Addendum 2 of 5, Matrix 2 of 5,Standard 25,IATA Code,Plessey,MSI/Plessy, China Postal Code,Code 32 (Italian Pharmacode),GS1-DataBar TM (RSS) ,(RSS 14,RSS-Limited, RSS-Expanded),AIM-128."